The 2021 WORCS season is complete! It was a season full of ups and downs and many lessons learned after making the step up to the Pro class this year.
My team and I headed to Buffalo Bills in Primm, NV early on Friday morning. After setting up our pit and getting checked in at registration, I got ready for qualifying that afternoon. We would be running on the old Lucas Oil short course track for round 10 on Saturday, and we qualify for start position the day before. I ran 4 of the fastest laps I could, but it was not enough to earn a top starting position. My car was sluggish and did not have a lot of pull out of the corners. I qualified 11th. On Friday night, we made some adjustments, and I was able to run around the parking lot to test. The car felt better, and I was ready for Saturday's race.
On Saturday, I was up early to radio for two of the 170 racers I have been working with this season. After their races, I got ready for mine. The SXS Pro Stock class lined up two-by-two and headed out onto the course behind the pace motorcycle. After rounding the track once, the pace motorcycle exited the track and the green flag flew! We took off and I knew I needed to quickly start making my way through the pack. In the first lap, I was able to move up two positions, making passes when I could. By lap 7, I had moved into P5. The yellow flag came out, signaling to slow down for the mid-race restart. We bunched back up and followed behind the pace motorcycle again. As we rounded the last turn, the green flag flew and we all took off! I was passed by two cars on the restart but was able to gain one position back quickly. I gave it everything I had for the last 7 laps, and in the end, I crossed the finish line in 6th place.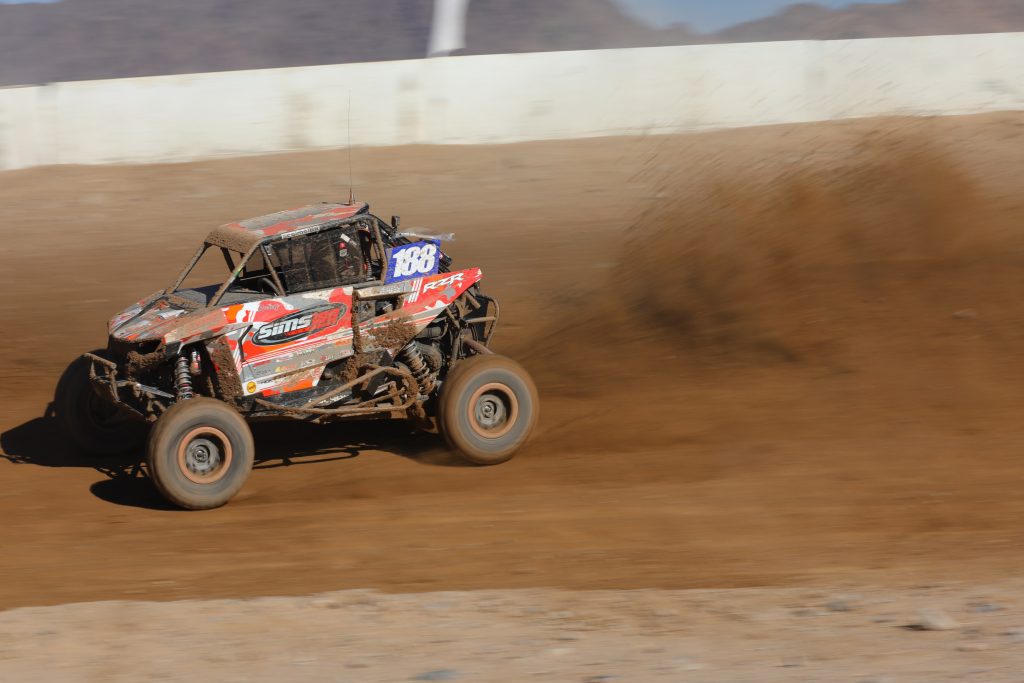 After the race, I got my car washed, prepped, and ready for the round 11 desert race on Sunday. We would be starting according to how we finished Saturday's race, which put me on row two. After looking over my car one more time, I turned in for the night.
On Sunday, I was up early again to radio for the 170 racers. Then, I headed back to my pit to get ready to race. When it was time, I lined up on row two and waited for the flag to drop. Row one took off and I got ready. As the green flag flew, I took off with my row heading into the first corner. I made contact with another racer, and it did damage to my front right axle. I was able to continue and was in P2 as we headed out onto the course. I could feel something was wrong, but I thought my power steering was out and tried to turn my car off and back on to reset it. Unfortunately, the power steering was not the issue, but I did not know that at the time. I stayed on the gas and did what I could to compensate for the difficulty in steering, but lost a position in lap 2. From then on, I was able to maintain my position for laps 3, 4, and 5, and in the end, I crossed the finish line in 7th place. When I exited the course, my team quickly saw what the steering issue was. I had completely lost my right front axle and had been racing without it. I was happy to have crossed the finish line, completing the final race of the season.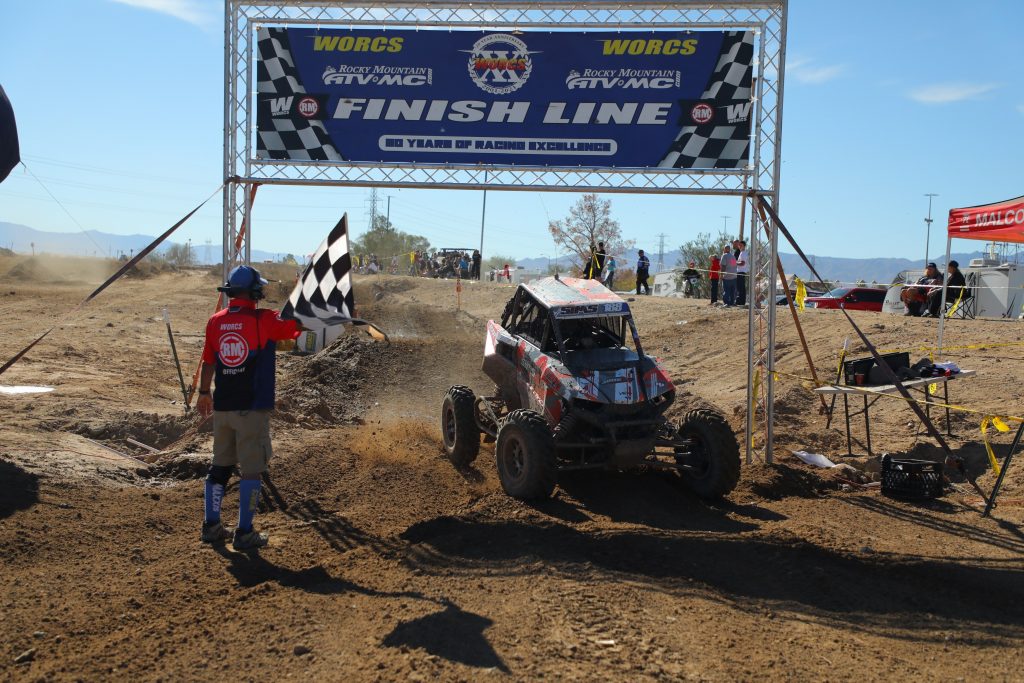 My first Pro season was not what I wanted it to be, finishing in 8th overall. This season had way more downs than ups, lots of car challenges, and all-around bad luck, but I learned a lot and I am taking away valuable lessons for the future.
We are currently building a brand-new Polaris RZR RS1 to run in 2022, and I am working hard to make next season better. I am grateful for the lessons learned and I am moving forward, still giving it my all, every day.
Thanks so much to all of these amazing companies and people that support my program: Polaris RZR, GBC Motorsports, Benchmark Performance, Candle Motorsports, Method Race Wheels, Crow Enterprizes, Elka Suspension, Super ATV, Roll Design, Energy Coil Racing, Factory UTV, Baja Designs, PRP Seats, Rugged Radios, Maxima Racing Oils, Tireblocks, JAMAR Performance, Race Team Sites, Crown Performance Products, Got Sand Performance, Oceanside Driveline, HOK9, Vision Canopy, Perrault Motorsports, Dirt Rider Designs, and my parents who make this possible for me! Thanks to WORCS for putting on the series and Harlen Foley for the awesome pictures! You can check out the Sims188 Racing team on Instagram @csims_188, on Facebook at www.facebook.com/csims188/, or on my website at www.sims188racing.com.