After a long three month break, WORCS round 7 is in the books! I am happy to report I put my Polaris RZR RS1 on top of the box again!
My team and I began our 822-mile journey to the Buckskin Hills Recreation Complex in Vernal, UT on Thursday morning. After a long 16-hour drive, we arrived at the hotel and turned in for the night.
On Friday, I headed to the track in the afternoon to get ready for practice. I was able to get a few good practice laps in, and I was happy with the way my car was performing. The track was 8 miles long and was very dusty. I knew that getting the holeshot on race day was going to be extremely important. I got my car washed up and looked it over to make sure everything was still good. After having dinner at the track, we headed to the hotel for the night.
On Saturday morning, I went back to the track. I radioed for one of the RZR170 kids I have been coaching. She had her best race yet and took 2nd place in her class! Then I checked the tire pressure and fueled my car. I was ready to race!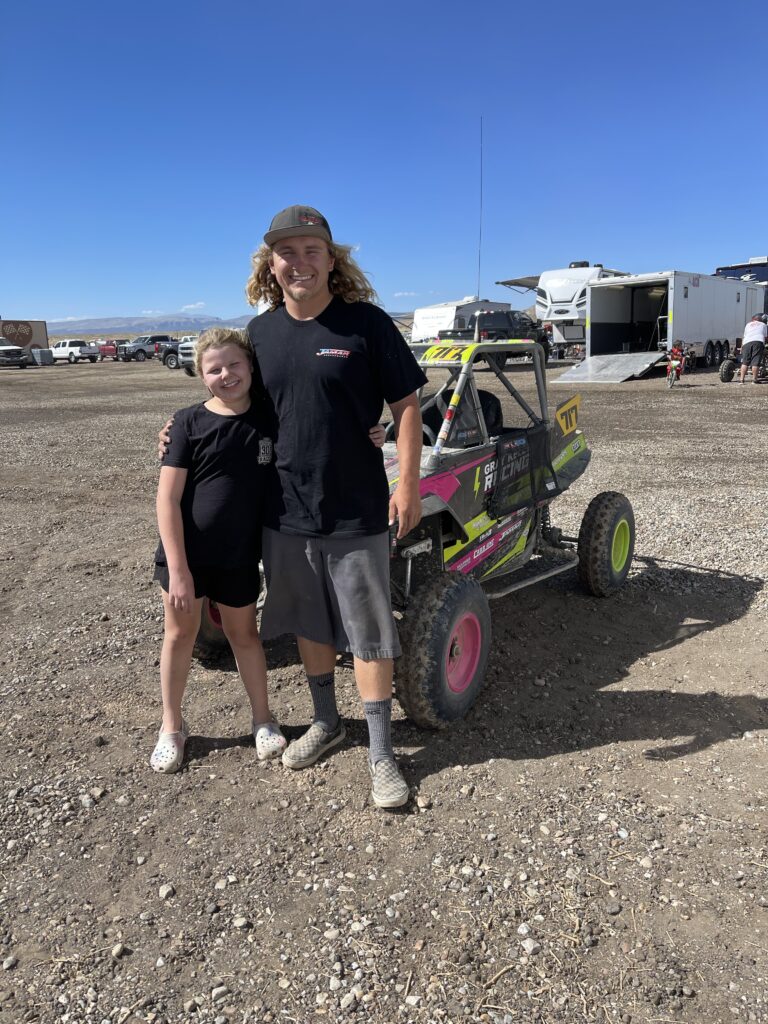 The Pro Stock class was the last race of the day, and when it was time, I headed to the start line. The sun was bright and just starting to set. I knew that the sun setting was going to be challenging with the dust, so I got ready and focused on getting out ahead first. The green flag flew, and we took off. I was running neck-in-neck with one of my competitors, but I stayed on the gas as we rounded the first turn and headed up the hill. We were still running right next to each other as we came down the hill, but then I was able to take a turn on the inside and got ahead of him! I was stoked! As we raced out onto the course, I settled in and stayed on the gas. The track was fun with long straight-aways, hills, and technical turn sections. The jumps in the infield were challenging because of the lips, but I remembered each one from my practice runs, so I was able to pin it or back off when I had to. With each lap, I was able to increase my lead, but I knew there was no room for error. My competitors weren't far behind. After 50 minutes, I crossed the finish line in 1st place! I couldn't have asked for a better race!
My win put me in first place for the Pro Stock class points, but the championship is still undetermined as we have two races left to go this season. I am working on prepping my car for round 8 and plan to finish the season strong!
Thanks so much to all of these amazing companies and people that support my program: GBC Tires, Elka Suspension, Candle Motorsports, KMC Wheels, Crow Safety Gear, Polaris RZR, Demon Powersports, PRP Seats, Rugged Radios, Maxima Racing Oils, Tireblocks, JAMAR Performance, Race Team Sites, Crown Performance Products, Got Sand Performance, Oceanside Driveline, Dirt Rider Designs, ECP Powder Coating, and my parents who make this possible for me! Thanks to WORCS for putting on the series and Harlen Foley for the awesome pictures! You can check out the Sims188 Racing team on Instagram @csims_188, on Facebook at www.facebook.com/csims188/, or on my website at www.sims188racing.com.