My team and I headed to Shorty's Sports Park in Blythe, CA on Friday morning. We arrived at the track and got our pit set up. I checked in at registration and got ready for practice. I had a few great practice laps and got a good feel for the track. My car wasn't performing as well as I know it can, so after practice we discussed some options and got a plan together for Saturday. After closing up the pit for the night, we headed to the hotel.
On Saturday morning we arrived back at the track. I did some coaching with one of the RZR 170 racers and she finished 3rd in her class! After that, my team and I did some clutch testing and my car felt much better. I was happy with the tweaks we made, and I felt ready for Sunday's race!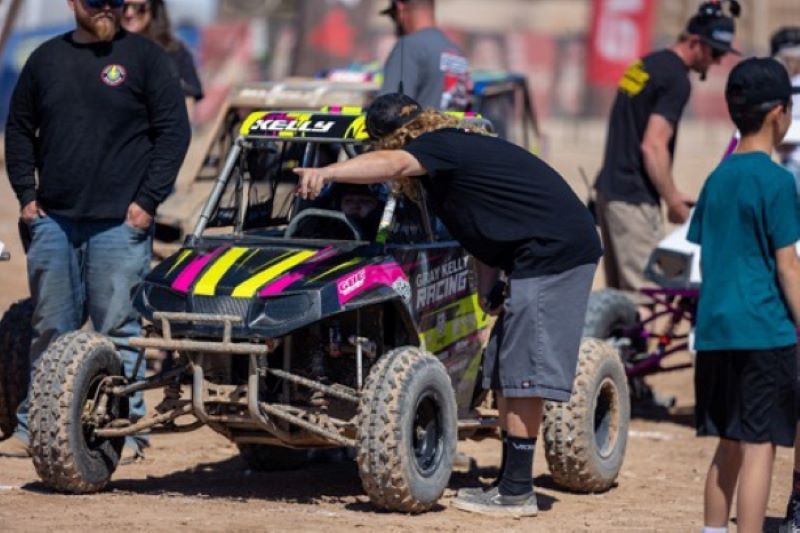 On Sunday, after arriving back at the track, I checked the tire pressure and fueled my car. I was ready to go! The SXS Pro Stock class was the last race of the day and when it was time, I went to the start line. I picked my spot and got ready. The green flag flew, and we took off! I was in P3 off of the line, chasing down P2. I was able to make a pass quickly, moving into P2, and started chasing down P1. Unfortunately, about ¾'s of the way through the first lap, my car starting overheating and went into limp mode. I was able to get to the pits so my team could see what was happening. After a quick pit stop, my team believed the car was not actually overheating, but something electrical was happening, making the car think it was hot and then sending it into limp mode. I had lost several positions, but kept going, taking advantage of the times the car was not in limp mode. I made another pit stop coming into lap 4, but my team still believed the car was not overheating. We made the decision to keep going so I could salvage points for the round. For 7 laps I did everything I could to keep my car moving and crossed the finish line in 4th place.
We have already begun testing to see what is causing the overheating/limp mode issue. I feel confident that we will have it figured out and ready to go by round 5!
Thanks so much to all of these amazing companies and people that support my program: GBC Tires, Elka Suspension, Benchmark Performance, Candle Motorsports, KMC Wheels, Crow Safety Gear, Polaris RZR, Demon Powersports, PRP Seats, Rugged Radios, Maxima Racing Oils, Tireblocks, JAMAR Performance, Race Team Sites, Crown Performance Products, Got Sand Performance, Oceanside Driveline, Dirt Rider Designs, ECP Powder Coating, and my parents who make this possible for me! Thanks to WORCS for putting on the series and Harlen Foley for the awesome pictures! You can check out the Sims188 Racing team on Instagram @csims_188, on Facebook at www.facebook.com/csims188/, or on my website at www.sims188racing.com.