WORCS round 3 is in the books!
My team and I headed to Lake Havasu City, AZ on Friday morning. We arrived at the track just a few hours before practice. I got my pit set up and checked in at registration. Then I headed to the start line for practice. I got a few practice laps in and got a good feel for the track. My car wasn't running quite right, so after practice I took some time to figure out what the problem was. Unfortunately, during practice, I had lost my transmission. It was one of the only spare parts we didn't have in the trailer. Luckily, one of my friends was coming to the race on Saturday morning, so I called him up and asked him to run by my house to bring me a spare. After tearing the car down to get it ready for parts on Saturday morning, we headed to the hotel for the night.
I arrived at the track on Saturday morning and my buddy arrived about an hour after me with my transmission. My team and I worked to get the new tranny in and then I drove my car around the pits to make sure everything was running the way it should be. My car was fixed and I was ready to race!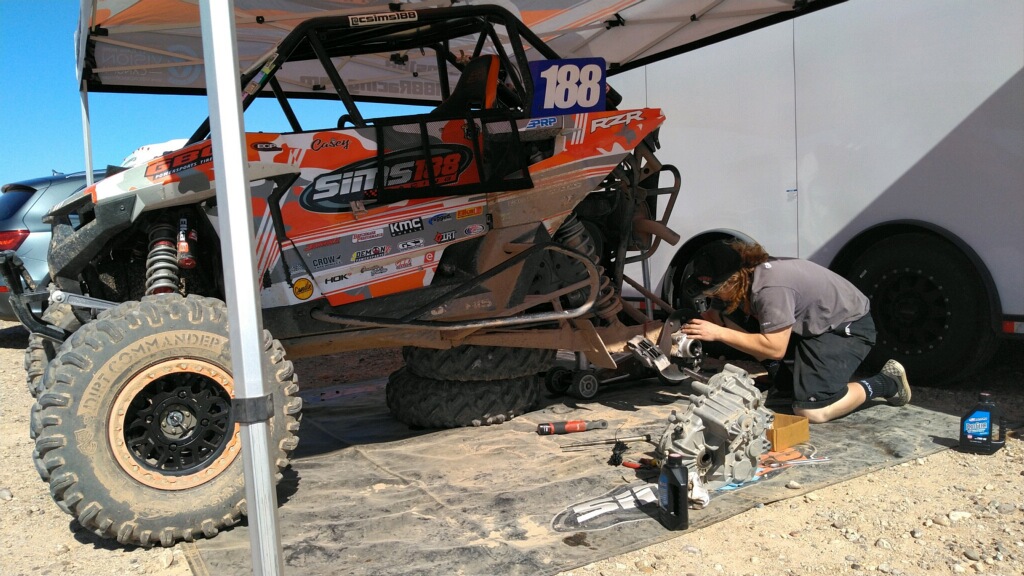 When it was time, I headed to the start line. The SXS Pro Stock class was the last race of the day and there were 7 cars in my class. I lined up on row one. The green flag flew and we took off! I was P3 off the start as we headed out onto the course. In the first lap, I was able to make a pass moving me into P2. I had fallen a bit behind P1, so I had some time to make up. Coming through the timing chute going into lap 3, I had made up significant time and was only 5 seconds behind P1. I stayed on the gas and going into lap 4, I was only 3 seconds behind the leader. Then, I hit a bush and couldn't see very well causing me to lose some time during lap 4. Going into lap 5, I was 5 seconds behind again, but I was determined to catch P1. Unfortunately, during lap 6, I broke a belt. I was outside the pits on the course, but I was able to pull off and change it. After getting back in my car, I put my head down and got focused again. The belt break had cost me a lot of time and several positions. I was in P6 coming through the timing chute heading out for lap 7. The course was challenging and running through the sand was putting a lot of strain on my car. During lap 8, I broke another belt. I was able to get it changed again and headed back out on the course. Then I ran my 9th and final lap, crossing the finish line in 5th place. It wasn't the result I was hoping for, but I did what I could to get my car across the finish line.
After the race, the WORCS kids program asked the Pro drivers to sign t-shirts for the kids. I always have a great time when I get to do things like that. I signed shirts and then they gave us bottles filled with chalk. All of the pro drivers lined up around the course and sprayed the kids with chalk creating tie-dyed shirts. It was a lot of fun and a great way to end the day!
Thanks so much to all of these amazing companies and people that support my program: GBC Tires, Elka Suspension, Benchmark Performance, Candle Motorsports, KMC Wheels, Crow Safety Gear, Polaris RZR, Demon Powersports, PRP Seats, Rugged Radios, Maxima Racing Oils, Tireblocks, JAMAR Performance, Race Team Sites, Crown Performance Products, Got Sand Performance, Oceanside Driveline, Dirt Rider Designs, ECP Powder Coating, and my parents who make this possible for me! Thanks to WORCS for putting on the series and Harlen Foley for the awesome pictures! You can check out the Sims188 Racing team on Instagram @csims_188, on Facebook at www.facebook.com/csims188/, or on my website at www.sims188racing.com.