Another round is down at WORCS Racing!
My team and I headed to Honolulu Hills Raceway in Taft, CA on Friday morning and arrived at the track just in time for unclassified practice. I was really excited to get out on the course because this would be my first WORCS race in my brand new, Got Sand Performance built Polaris RZR RS1! I raced at a local Dirt Series race a few weeks prior to test the car, and we dealt with some overheating issues. I thought we had all the bugs worked out and felt really good going into WORCS round 4.
Unfortunately, during practice, the car overheated again. After pulling off the course, I headed back to my pit where we tried to further diagnose the problem. We made some changes and I was able to run the car quite a bit just outside of the track. Everything seemed to be working great and the overheating issue did not come back. I felt much better about the car and we turned in for the night.
I arrived at the track early on Saturday morning and radioed for one of the RZR170 racers. He finished his race in 1st place, so it was a great start to the day! After his race, I went to my pit and finished up some final prep on my car. The Pro Stock race was the last race of the day, and when it was time, I headed to the line. There were 9 cars in my class, and they lined us up in one row. The flag flew and we took off! It was a very short distance to the first turn and I got pinched off in the bunch. As we rounded the corner, one of my competitors hit me from behind, punching a hole in my number plate and hooking on to my rear bumper. It took me a few seconds to get unstuck, and then I hit the gas heading out on to the course. I was down on time but determined to make it up.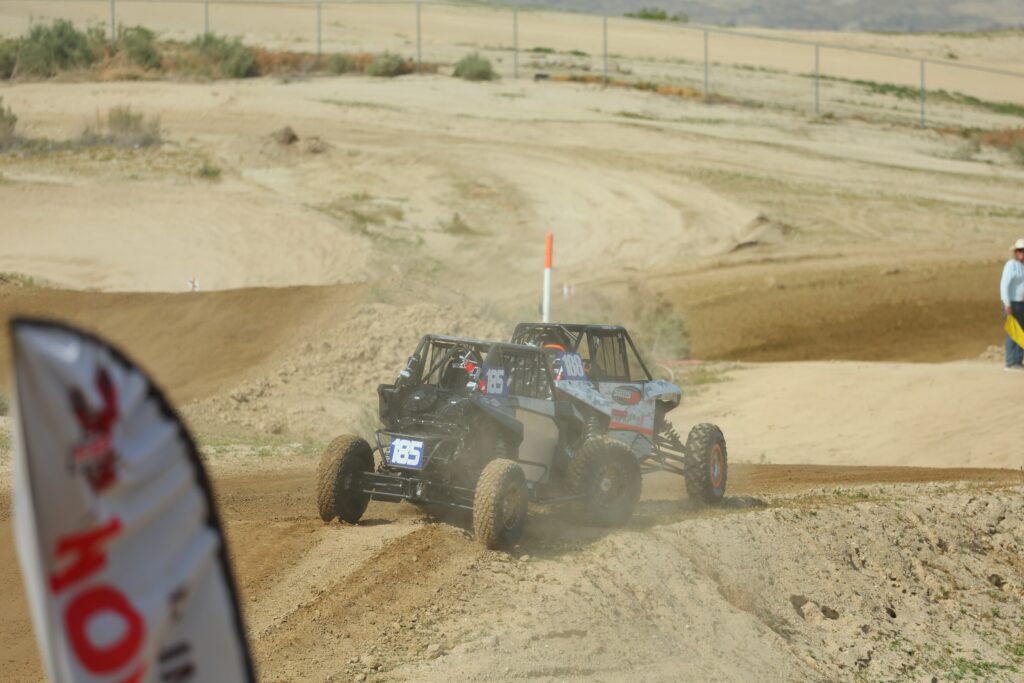 Halfway through lap 1, my car temperature spiked again. I radioed to my pit crew and they told me to take it easy on the car. I slowed down allowing the car to cool off a little. After coming through the timing chute, I went to the pits where my crew removed the rear fenders to help gain some airflow to the motor. They also poured water on the radiator to cool the car down quickly. Then I headed back out for lap 2. The car continued to overheat, so I had to keep slowing down, allowing it to cool. I did what I could to stay in the race but had to pit after each lap. In the end, I crossed the finish line in 8th place.
We've got the car torn down and we've been working on solving the overheating issues. I plan to test again at the Dirt Series on April 15th, and then get the car prepped for WORCS round 5 in Las Vegas on April 29th. I am looking forward to seeing what this car can do!
Thanks so much to all of these amazing companies and people that support my program: GBC Tires, Elka Suspension, Benchmark Performance, Candle Motorsports, Method Race Wheels, Crow Enterprizes, Polaris RZR, Super ATV, Energy Coil Racing, PRP Seats, Rugged Radios, Maxima Racing Oils, Tireblocks, JAMAR Performance, Race Team Sites, Crown Performance Products, Got Sand Performance, Oceanside Driveline, Dirt Rider Designs, and my parents who make this possible for me! Thanks to WORCS for putting on the series and Harlen Foley for the awesome pictures! You can check out the Sims188 Racing team on Instagram @csims_188, on Facebook at www.facebook.com/csims188/, or on my website at www.sims188racing.com.