The first round of the new Outlaw Series West did not disappoint!  I have been wanting to check out the Outlaw Series in Texas for some time now but have never been able to make it out.  I am stoked this series decided to come to the West Coast!
My team and I headed out early on Friday morning to make the 470-mile journey to Cedar City, UT and arrived at the Iron Mine Race Park just about one hour before practice started. I unloaded, got checked in at registration, and got ready to head to practice. I was able to run a few laps and got a good feel for the track. My car was handling well and running great! I also loved the track! After practice, I ran my car through tech and then got everything put away for the night.
On Saturday, I headed to the track early to attend the driver's meeting. Then, I did some final prep on my car. This series is running a two moto format, and the SXS Pro Stock class was race number 11 in the lineup for the day, so I had some time before my first race. When it was time, I went to staging and then lined up with the other cars in my class for moto 1.
The green flag flew, and we all took off! I was in P2 off of the line as we headed out onto the course. I stayed on the car in front of me and watched what he was doing as we went through the tight corners. I figured out that my best bet for getting past him was going to be on the inside. About halfway through lap 1, I had a chance to pass, and I took it, racing as fast as I could to get around him and moving into P1. I was able to quickly put some distance between my car and the car behind me. I stayed on the gas and got focused. With each lap, I was able to put a little more space between my car and the rest of the pack. I felt like I was in a good groove. After 6 laps, I crossed the finish line in 1st place!
After moto 1, we had some time before my next race, so I went back to my pit and looked over the car to make sure it was in perfect shape to race moto 2. After going through the race lineup again, it was time to head to staging. I picked a different spot on the line, and it ended up being a good choice. The green flag flew, and we took off! I got the hole shot this time and headed out onto the course. The conditions on the track had changed a bit, but I quickly got into a groove and raced as fast as I could to put some distance between my car and the cars behind me. I lead the race from start to finish, and after 7 laps, I crossed the finish line in 1st place, bringing home the 1st place overall spot for the day! I was stoked!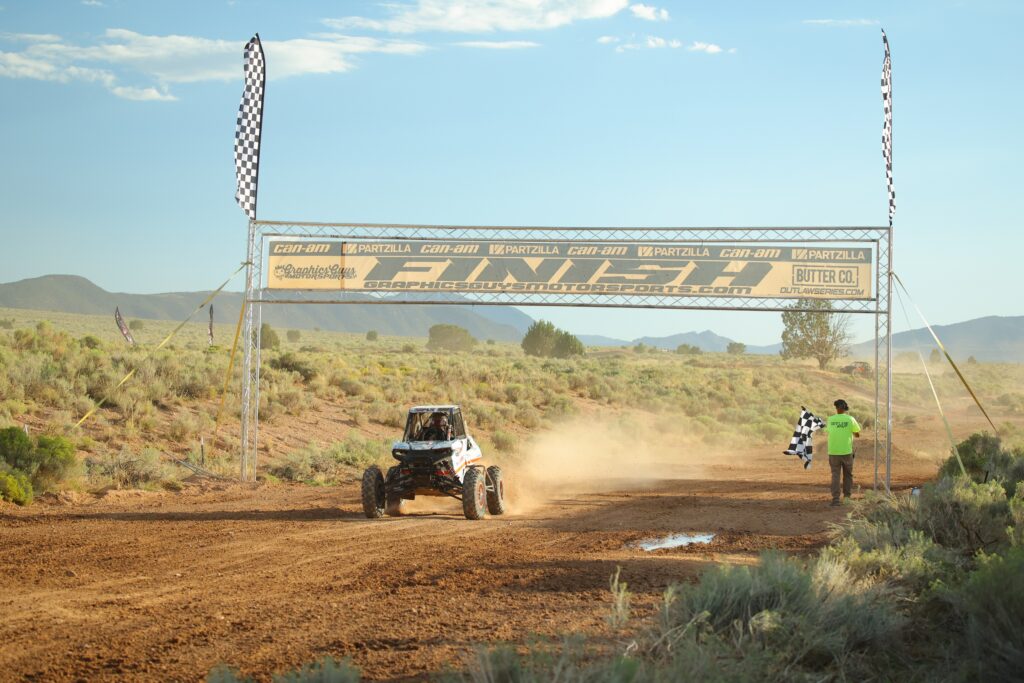 Racing at the Outlaw Series West was awesome! It was well organized, the track was great, tech and registration were a breeze, and the live feed coverage they had on YouTube was top notch! I had friends and family in 5 different states that were all able to enjoy live feed race coverage for both motos. I can't wait for round 2!
We are prepping my other RS1 to race at WORCS round 7 next weekend in Preston, ID. Then, we will come home and prep for the Outlaw Series West round 2 (which will be the first weekend in October) in Taft, CA. We've got a really busy schedule as the season ramps back up!
Thanks so much to all of these amazing companies and people that support my program: GBC Tires, Elka Suspension, Benchmark Performance, Candle Motorsports, Method Race Wheels, Crow Safety Gear, Polaris RZR, Super ATV, Energy Coil Racing, PRP Seats, Rugged Radios, Maxima Racing Oils, Tireblocks, JAMAR Performance, Race Team Sites, Crown Performance Products, Got Sand Performance, Oceanside Driveline, Dirt Rider Designs, and my parents who make this possible for me! Thanks to Brian Adkison and the Outlaw Crew for putting on the series and Harlen Foley for the awesome pictures! You can check out the Sims188 Racing team on Instagram @csims_188, on Facebook at www.facebook.com/csims188/, or on my website at www.sims188racing.com.