The 2023 season is off to a great start!
As many of you already know, I had planned to race the Outlaw Series West in 2023, but unfortunately, we were notified at the end of 2022 that the series had been cancelled. My team and I had to make some quick changes to my program and decided to race the first round of WORCS. We spent the last few weeks prepping and revamping my program for 2023.
We headed out on Friday morning and made it to Buffalo Bills in Primm, NV a few hours before practice started. I got checked in at registration and got my pit set up. Then I got ready to run practice. WORCS was running behind, so I was only able to complete one practice lap as the sun went down. I really liked the 7-mile course and felt good about how my car handled. After practice, we locked everything up and closed the pit for the night.
On Saturday, I was up and ready to go!  I ran my car through tech and then did some final prep.  After checking my tire pressure and fueling up, I was ready to race.  The SXS Pro Stock class was the last race of the day and when it was time, I went to the start line.  We lined up, the green flag flew, and we all took off!  I was in P3 off the start and stayed on the car in front of me.  It was a 50-minute race, so I settled in and got focused.  Early on, something felt off in the front end of my car, and I thought my power steering was out.  I tried to reset it, but it didn't work.  It was becoming more and more difficult to steer, especially through the rough sections, but I didn't let it stop me.  Towards the end of lap 1, I was able to make a pass moving me to P2.  The leader had gotten out ahead, but I was confident I could catch him.  Coming into lap 2, I was on his bumper and applying pressure.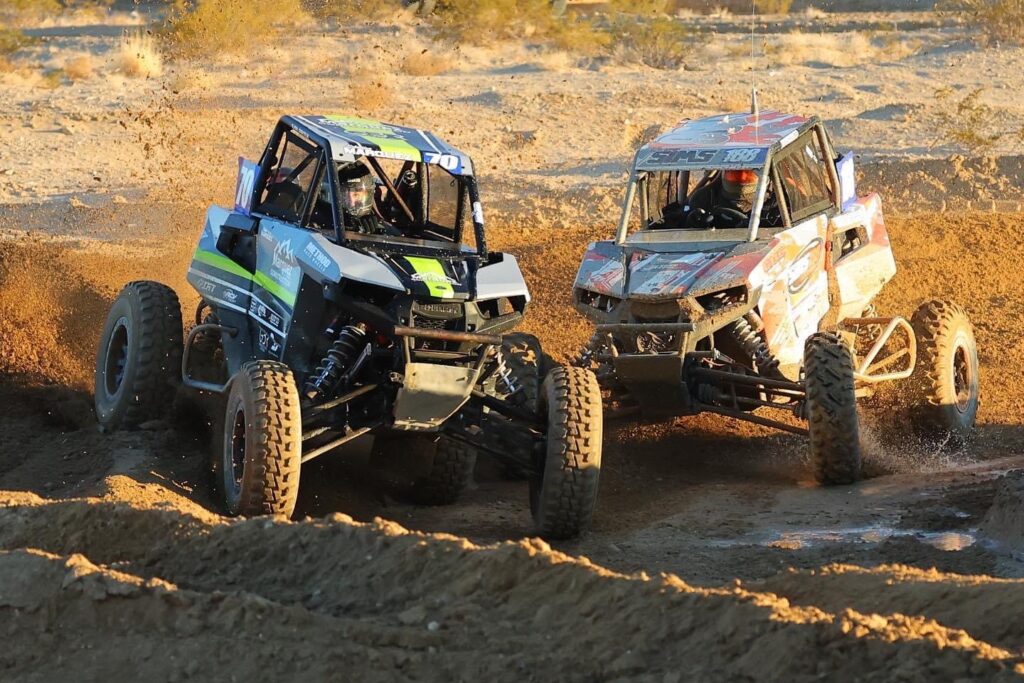 About halfway through lap 2, the leader came into a corner and took the turn high.  I ducked to the inside and stepped on the gas, making the pass and moving me into P1!  I had clean air ahead, but there was no room for error.  I began to put some distance between us and coming through the timing chute going into lap 3, I had an 8 second lead.  I also clocked the fastest lap of the race with a 10 minute 43 second lap!  As the sun was setting, it became difficult to see, but I stayed focused as I moved through the course.  Coming through the timing chute on lap 4, I had a 9 second lead.  With the exception of my steering, my car felt great and I was running a fast, consistent pace.  As I completed lap 5 (the last lap of the race), I crossed the finish line in 1st place, 18 seconds before P2!  I was stoked!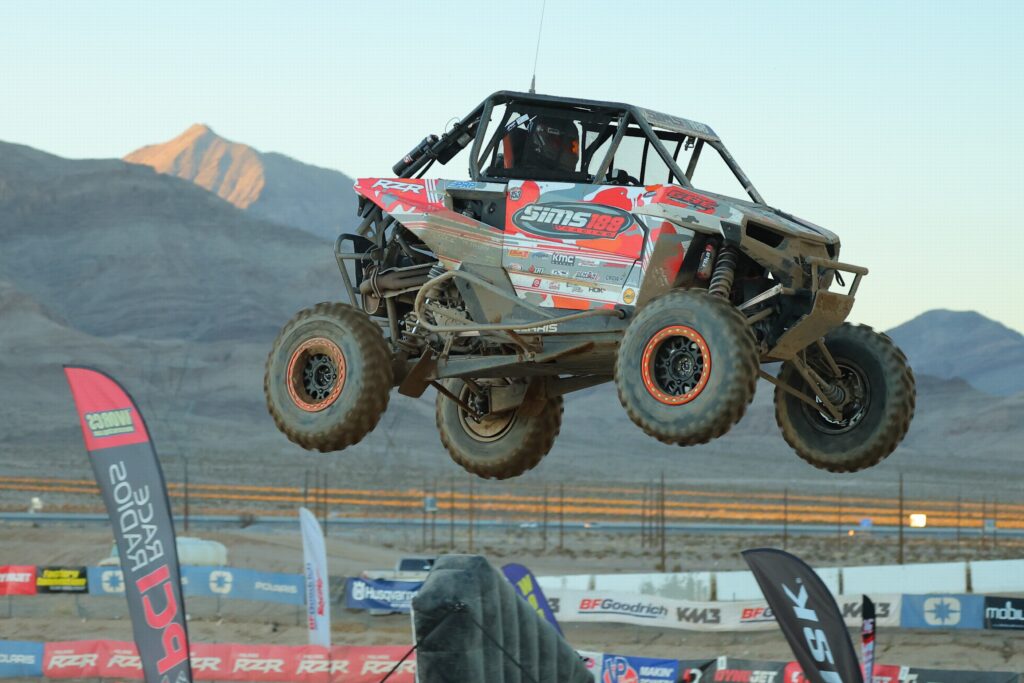 After I finished the race, I realized that the bracket on my steering rack had broken and that's what I was feeling in the front end. I was so happy that I was able to keep the car together and complete the race with a 1st place finish!
Thanks so much to all of these amazing companies and people that support my program: GBC Tires, Elka Suspension, Benchmark Performance, Candle Motorsports, KMC Wheels, Crow Safety Gear, Polaris RZR, Demon Powersports, PRP Seats, Rugged Radios, Maxima Racing Oils, Tireblocks, JAMAR Performance, Race Team Sites, Crown Performance Products, Got Sand Performance, Oceanside Driveline, Dirt Rider Designs, ECP Powder Coating, and my parents who make this possible for me! Thanks to WORCS for putting on the series and Harlen Foley for the awesome pictures! You can check out the Sims188 Racing team on Instagram @csims_188, on Facebook at www.facebook.com/csims188/, or on my website at www.sims188racing.com.